Building a strong brand is something every freelancer needs to do. It's not just about having a memorable logo or tagline, but ensuring that you are remembered by your audience and clients for the right reasons. We're here to help you develop an effective branding strategy and create an identity that will make you stand out from the crowd.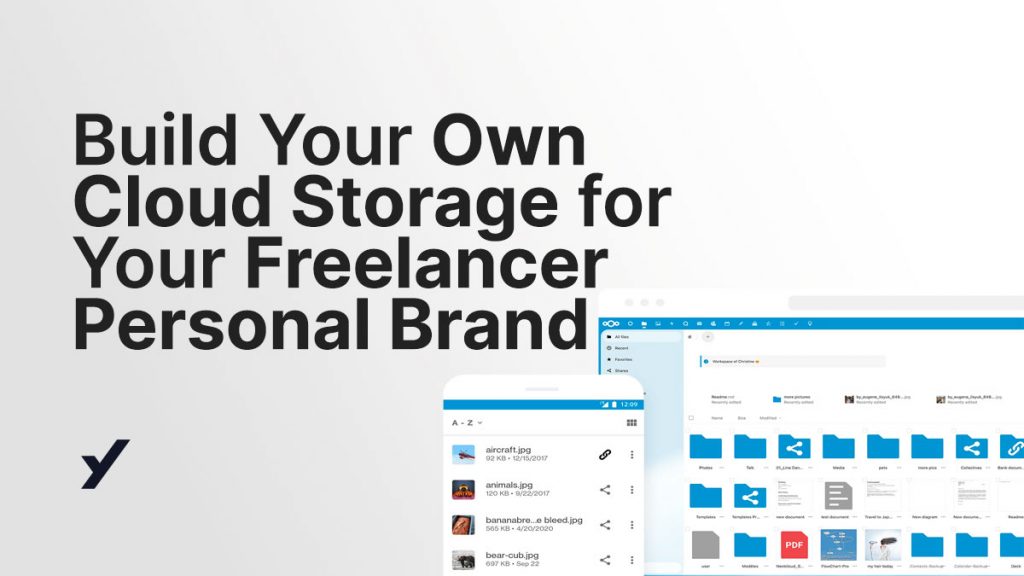 Your personal brand and freelancing business are only as strong as the tools you have available to communicate your value with potential clients. This makes an online storage solution like nextcloud that much more valuable, because it allows you to store, organize and share all of your files from any device and add security features such as two-factor authentication through services like Google Authenticator. Best of all, it's simple to get set up, and in this article we'll take you through all of the steps necessary to use nextcloud to build your own cloud storage on your own domain.
What is Cloud Storage?
Cloud storage is a type of web hosting. Like traditional hosting, it involves storing files on a server and making them accessible to the public. Unlike traditional hosting, however, cloud storage enables you to store your data remotely and access it from anywhere as long as you have an internet connection. You can also create private accounts that are only accessible by the account's owner.
Cloud storage is ideal for businesses because they need to store their data without having to worry about managing hardware or setting up servers. And when you communicate with your clients you always need to send big files. In this scenario, cloud systems are the only way. If you don't want to send files with google drive, onedrive, or use the systems like wetransfer you need to build your own branded cloud storage.
What are the Differences Custom Cloud Storage vs Others
Cloud storage is the backbone of any freelancer brand's business efforts. But there are many types of cloud systems with different features and limitations that can make it difficult to decide which one is best. Some services offer limited storage space, others only allow you to upload a few files at a time, and some charge per gigabyte. DIY custom cloud storage with nextcloud offers much more flexibility, allowing you to scale your storage up or down as needed without any cost increases. And the most important point is when you send a file to a customer, you are sending it under your own domain and your own cloud system. It's a nice action to show your customers your brand's strong identity.
Benefits of Building Own Cloud
Building your own cloud storage is like having your own private wetransfer – only branded on your own domain. You'll be in complete control, and it'll cost you less money than paying for cloud systems monthly fee. To create your own cloud, you'll need the help of server and client software. There are several solutions that you can choose from the market but we'll discuss NextCloud in this post. I'm personally used this solution about 4-5 years and I like it.
Custom Cloud Solution: Nextcloud
Nextcloud is similar to ownCloud, but with a few differences. Nextcloud is an upgraded version of ownCloud, created by duplicating (forking) it and developing the new version separately. It offers some great collaboration tools, allowing you to use one of their DIY cloud storage systems. They also have apps for smartphones on both Android and iOS – which is perfect if you want to access your data wherever you are. It is different from other services like Google Drive and Dropbox because it's not hosted on servers outside of your direct control. For users seeking more control over how and where their data is stored, Nextcloud is a great choice.
Is it Free
Yes, you can install it on your own server and can use free. It has its own premium pricing but I'm writing this post for freelancers and solo business owners. So you don't need team pricing or extra features. Just upload your files and send them to your customers. It is my usage also.
How to Install
NextCloud has a huge documentation on their website, here is the link: https://docs.nextcloud.com/server/latest/admin_manual/installation/index.html
But if I make it summarize, here is the installation steps with web installer file;
The Web Installer is the easiest way to install Nextcloud on a web space. It checks the dependencies, downloads Nextcloud from the official server, unpacks it with the right permissions and the right user account. Finally, you will be redirected to the Nextcloud installer.
Right-click here and save the file to your computer
Upload setup-nextcloud.php to your web space
Point your web browser to setup-nextcloud.php on your webspace
Follow the instructions and configure Nextcloud
Login to your newly created Nextcloud instance!
You can find further instructions in the Nextcloud Admin Manual.
Note:
Installer uses the same Nextcloud version as available for the built in updater in Nextcloud. After a major release it can take up to a month before it becomes available through the web installer and the updater. This is done to spread the deployment of new major releases out over time.
Features
Share files very quickly with your own domain.
Create folders for your different clients.
Share files with password.
Easy collaboration.
Store on your own server.
Built-in apps. (More than 100+)
Using
I don't tell you how to use it here, but it's very easy. Just create a file, upload your file, and copy the share link. Here is a huge documentation about usage of nextcloud. https://nextcloud.com/files/
Pros and Cons of NextCloud
First, let me tell you that these pros and cons are just my thoughts. You can search and find your own pros and cons.
Pros;
Very easy to use
Quick installation
Smooth process
Security options
Cons;
Enterprise pricing is too expensive.
You use your own hosting storage.
Conclusion
Nextcloud is a great solution if you want to build your own cloud storage and make your personal brand powerful. It is very easy to start and creates a huge difference to your personal brand in a positive way.
If you have a different process for using cloud systems please mention it and let us talk about that.